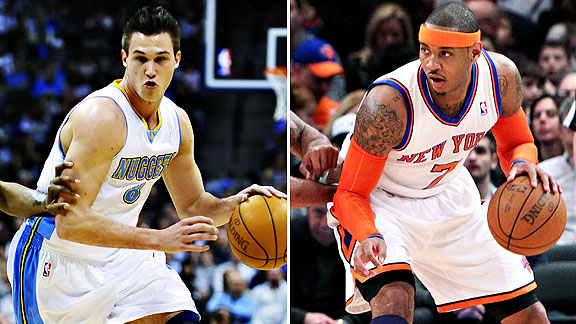 (Photo courtesy of espncdn.com)


Tonight's game between New York and Denver will be a tale of two teams trending in very different directions right now. The Knicks have lost five straight games to drop to 6-9 and sadly still hold the eighth and final playoff spot in the Eastern Conference.
The Nuggets, on the other hand, have won three straight and five of six on their way to the second-best record in the Western Conference; and they're doing it with a former Knick as one of their key players.
Danilo Gallinari was the major piece of the trade that sent Carmelo Anthony to New York in early 2011 and anybody who knows me knows I was a huge Gallinari fan. I saw a future All-Star and, sure enough, the Italian is
tenth among Western forwards in All-Star voting
.
It can be argued that he's better than multiple players ahead of him (Odom, World Peace and Duncan) which places him squarely in the running for a spot on the team based on his performance this season. He may not make it, but there could also be more growth in his game in the years to come.
The Knicks also traded Wilson Chandler, Raymond Felton, Anthony Randolph and Timofey Mozgov in the deal while receiving Chauncey Billups and Corey Brewer in return, but only Mozgov hasn't changed addresses since the trade. The important piece is Felton, who left Denver for Portland after battling Ty Lawson for minutes.
The Knicks are 20-22 since trading for Anthony, while the Nuggets are 28-12 after ridding themselves of a player many view as selfish. Part of the Knicks struggles have come from their lack of a true point guard, as Billups was amnestied to make room for Tyson Chandler. This is where Felton comes in.
While Chandler has helped the team improve their defense, a simple task considering how bad it was last season, the loss of Billups has destroyed the Knicks' offensive efficiency (
they're currently ranked 24th
despite having two big-time scorers). Would the Knicks be better off with Felton and Gallinari than they would with Anthony?
The short-term answer is absolutely yes. That answer, however, assumes Chandler still would have come to New York if Anthony wasn't on the team. That can't be assured, as part of the reason to team up Anthony and Amar'e Stoudemire in New York was to attract free agents to the Big Apple.
The long-term answer depends on Gallinari's continued development. While he may never be on the same level as Anthony as a scorer, Gallinari competes harder on defense and doesn't rely on isolation to create scoring opportunities like Anthony, which destroys the Knicks' offensive rhythm.
If Gallinari becomes close to the player Anthony is, which I believe is entirely possible, the Knicks will have lost this trade in both the short and long run. They would have cost themselves depth and point guard play during Anthony's prime and a player more than four years younger than him for the long haul.
It's still way too early to judge the Knicks' 2011 roster purge and there are too many variables to make a truly educated guess on what the team would look like with Felton and Gallinari instead of Anthony. However, it's painstakingly obvious to all Knicks fans that they miss both Felton and Billups and, with all apologies to Baron Davis and Iman Shumpert, an answer doesn't seem to be coming soon.
I like Shumpert but he will never be a true point guard; once he becomes more consistent with his jump shot, he can be an ideal two-guard. Davis is old and has issues with motivation; considering the Knicks' current struggles, he may not be interested in playing particularly hard upon his return.
Knicks fans may still wish they had Felton and Gallinari rather than Anthony but assuming Chandler wouldn't have signed without Anthony on board, it's still a tough sell that the trade wasn't the right move (unless you think Anthony would have signed as a free agent). Regardless of right or wrong, this team is extremely difficult to watch right now and I'm not sure I see that changing until
Steve Nash becomes a Knick, if he does
.