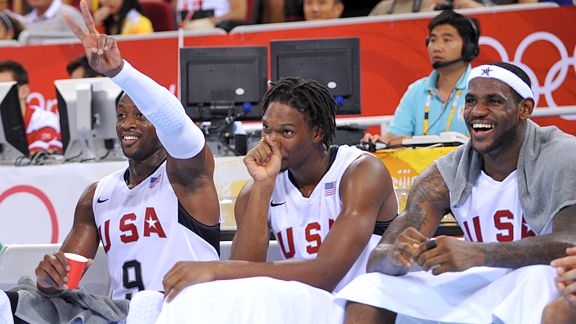 Anybody who follows the NBA has been waiting for this day since the NBA Finals ended (or since their team was eliminated). In less than 12 hours, LeBron James, Dwayne Wade, Chris Bosh and numerous other NBA superstars will become free agents. Where will they all land? At this point, that's still anybody's guess.
Does any fan of an Eastern Conference team really want to see James, Wade and Bosh playing together in Miami? That rumor came out yesterday but today Bosh went on record saying he didn't know how that scenario would work. One ball, three stars and ZERO supporting cast, not to mention someone having to take a pay cut. Some would argue that with three of the top 10 players in basketball, you wouldn't need a supporting cast. But you still need to fill out a roster with rotation-worthy players.
I think Miami getting all three is nothing but a pipe dream; the logistics and the finances just don't work out. The Heat would likely need to trade Michael Beasley to afford three max contracts and they would have little other money to spend on the 4-5 other players they would need to fill out their rotation. It's just not feasible.
Then there's the argument of whether that triumvirate would lead the Heat to multiple championships. I'm inclined to say yes, considering the Celtics won two years ago with Paul Pierce, Kevin Garnett and Ray Allen. But those players were heading into the twilight of their careers and willing to make personal sacrifices for a ring. James, Wade and Bosh are all entering their prime (scary, isn't it) and may not be so willing to defer to the other two.
Also consider that the Celtics had a young point guard by the name of Rajon Rondo (who has become a household name two years later) and other valuable role players on that 2008 squad (Kendrick Perkins, James Posey, Eddie House and Tony Allen to name a few). The Heat would not be able to afford such players and would likely be stuck stocking their roster with players that don't deserve to be in an NBA rotation. Would three superstars and a bunch of no-names be able to hang with deep teams like the Lakers and Magic?
It's an interesting discussion, but one I'll stop since it's highly unlikely to happen. So now it's back to realistic possibilities.
There are so many that I could list, but one I will leave out is LeBron to the Knicks. I've been skeptical on his interest in coming to New York from the start and the recent rumors that have placed him everywhere else (Cleveland, Chicago, Miami) seem to support that. Then again, maybe that's a good sign for the Knicks chances of landing LeBron.
I don't know if LeBron wants to play in Michael Jordan's shadow with the Bulls or if he wants to share with Wade in Miami. That leaves Cleveland, his home and the team that can pay him the most. But the Cavs can't bring anybody else in to help him out, something he surely wants. So while I'm skeptical on him coming to New York, I see a reason for him not to go everywhere else as well.
I won't sit here and try to predict where everybody is going to land, that would just make me look silly. But I'll throw some thoughts out there nonetheless.
LeBron and Bosh could team up in Chicago or New York, or Bosh could go to Miami to play with Wade. The one constant I see is Bosh playing with either James or Wade; he has no reason not to. If Bosh doesn't go to Miami, I think the Heat will bring in Carlos Boozer as a nice inside complement to Wade, who I believe will stay with the Heat as long as they bring some players in, which they almost have to.
Dirk Nowitzki and Amar'e Stoudemire seem likely to stay put, leaving Joe Johnson to go to the Knicks if they don't get James and Bosh. I know I left out the Nets, but I don't really see any. of these players choosing New Jersey over other, more attractive destinations. When I revisit this post in two weeks, I'm sure I'll shake my head at these "predictions" and how wrong they really were.