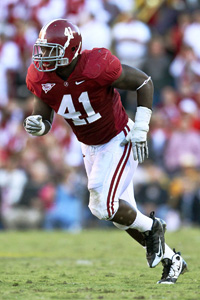 (Photo courtesy of ESPN.com)


The Jets have many needs to address heading into next season. Their three major areas of needs are an upgrade to their pass rush, a safety adept at man coverage and help for Mark Sanchez on the offensive side of the football.
With bowl season concluding after Alabama's 21-0 domination of previously unbeaten LSU, it's time to take at look at some of the players the Jets should target with the 16th overall pick in April. (Hint: I waited until after the BCS Championship for a reason)
1. Courtney Upshaw (DE/OLB - Alabama)
The defensive MVP of last night's title game, Upshaw was an absolute beast in all facets of the game. He played well against the run and put pressure on LSU quarterback Jordan Jefferson, showing off the complete NFL skill set that makes him a first-round prospect.
Upshaw is strong at the point in run support, fast up the field and disciplined enough not to overpursue plays moving away from him. At 6-2, 265 pounds, Upshaw would be a perfect fit at outside linebacker in the Jets' 3-4 and instantly become the team's best pass rusher. This is the perfect storm of when talent meets a need.


2. Mark Barron (S - Alabama)
This would be more of a need pick for the Jets than anything, as their safeties were terrible in coverage this season. There will be better players on the board at 16 and usually I'm a proponent of drafting the best available player that also fills a need, but there are a few reasons to take Barron.
The Alabama safety is tough against the run, but needs to work on his pursuit angles and has a tendency to overrun plays at times. At 6-2, 220 pounds, Barron would be the Jets biggest safety and would provide immediate help against opposing tight ends, New York's only real weakness in coverage this season.
He would also make Jim Leonhard exponentially more effective, as Leonhard's best days with the Ravens came alongside future Hall of Famer Ed Reed. The Jets' veteran safety is coming off two season-ending injuries and should come at a nice discount; pairing him with Barron would essentially represent an upgrade at two positions with just one pick.
3. Trent Richardson (RB - Alabama)
Three straight players from the Crimson Tide? I must be an Alabama fan. The truth is that I'm not but the SEC is the closest conference to the NFL that you're going to find; most of the talent coming out of the SEC translates well to the professional level.
The first two players on this list address two of the Jets' three needs, while Richardson would provide Mark Sanchez with major help in the running game. Shonn Greene is serviceable but will never be better than average; he lost a step this past season and won't get it back anytime soon.
I honestly don't believe Richardson will be available at this point, as he's the best running back prospect since Darren McFadden in 2008 and deserves to be a top-10 pick (C.J. Spiller was, after all). If he falls past Cleveland and Tampa Bay in the top five, however, there are no other teams in the top 15 who need a running back unless Seattle doesn't resign Marshawn Lynch.
A competitive team that needs a running back like the Packers or Patriots could move into the top 15 to take Richardson but if he's on the board when the Jets draft, they need to at least take a look at him. They have plenty of holes and can get by with Greene, but Richardson would definitely be the best player available and take a lot of pressure off Sanchez in a make-or-break season.
4. Alshon Jeffery (WR - South Carolina)
It seem unlikely the Jets will get their hands on one of the top three tackles available in the draft and all the others seem like reaches at 16. Since helping Mark Sanchez is the goal if their defensive targets are off the board, how about a 6-4 wide receiver to replace the 6-5 Plaxico Burress and haul in the high passes that have become a staple of Sanchez's early seasons.
Notre Dame's Michael Floyd could also be on the board for the Jets but I like Jeffery more, as he was able to put up decent numbers this season despite issues at quarterback, a la Larry Fitzgerald. Neither Jeffery or Floyd can be as good as Fitzgerald, but the Jets need a downfield target and Jeffery's yards per catch for this three-year career stands at 16.6 despite lacking sprinter speed, compared to 13.6 for Floyd.
New York may shy away from Jeffery after his ejection from South Carolina's bowl game against Nebraska a few weeks ago since they already have one receiver with character issues. Floyd has had off-the-field issues in the past as well and while the Jets will likely address the receiver position in free agency or after round one, Jeffery is a solid pick if the three guys ahead of him are gone.
5. Dont'a Hightower (ILB - Alabama)
Back to Nick Saban's team we go and rightfully so; that Crimson Tide defense could go down as one of the best ever in college football and produce four or five first-round picks in April's draft. Unlike Arizona State underclassman Vontaze Burfict, Hightower has not yet declared but seems likely to after winning the national title.
Both linebackers have the potential to dominate against the run, but Burfict comes with a few character issues that Hightower doesn't. In a Jets locker room that was called "selfish" by third-string quarterback Greg McElroy (also an Alabama product), that could break any ties between Burfict and Hightower.
Hightower would add needed speed to the Jets defense and replace Bart Scott, who seems all but gone after slowing down significantly this season and flipping off reporters the day after New York lost their season finale to Miami. Come draft time, it seems likely the Jets will be saying, "Roll Tide!"
Honorable Mention:
Whitney Mercilus (DE/OLB - Illinois), Melvin Ingram (DE/OLB - South Carolina), Vontaze Burfict (ILB - Arizona State), Michael Floyd (WR - Notre Dame), Vinny Curry (DE/OLB - Marshall)