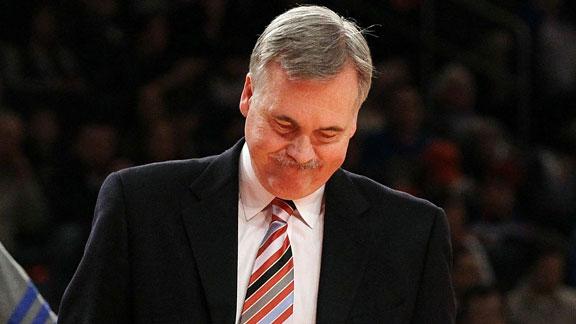 (Photo courtesy of espncdn.com)


Before anything else, I'd like to apologize for my prolonged hiatus from the blogosphere. Full-time employment will do that to a person, but this news is too big for me not to thrown in my two cents.
Mike D'Antoni resigned today amidst rumors he was on the hot seat after the Knicks' six-game losing streak. Five of those six losses were on the road and all six were against teams currently in the playoffs, but the Knicks have looked terrible (to put it bluntly) since Carmelo Anthony returned from injury.
Is D'Antoni to blame? In a word, no. Is Anthony to blame? That question cannot be answered in just one word. Many people are pointing the finger at Anthony, whose return has destroyed the chemistry the Knicks enjoyed (against bad basketball teams) when Jeremy Lin was taking over the city.
I've said before that D'Antoni was a square peg in a round hole once Anthony joined the Knicks. D'Antoni's system is predicated on spacing the floor which might as well be a foreign language to Anthony, who would rather clog the post, show his frustration when he doesn't get the ball (while well covered) and force Lin to make one-on-one moves to the basket.
Jeremy Lin is not a player who thrives in isolation or by playing a one-on-one game. Just like team play was contagious when Lin was leading the Knicks without Anthony, isolation has also been contagious since Anthony returned. I hear people claiming Lin is now nothing more than a future backup.
Yes, these are the same people who were lavishly heaping praise on the young point guard a month ago. It's easy to forget that Lin is essentially a rookie; there will be growing pains and he will continue to improve. There is no reason to think he cannot be a legit starting point guard in the NBA.
Back to D'Antoni and Anthony, there is also the purported rift between the player and the coach. These two didn't mesh from the start and D'Antoni (along with Donnie Walsh) was against trading for Anthony in the first place. What a great way to start a productive relationship.
While Anthony while hurt, the team thrived without him. You would think D'Antoni would use his power as head coach to sit Anthony when he wasn't playing within the confines of an offense that was highly successful without him. Instead, D'Antoni caved to the star that would eventually cost him his job.
The problem is that without D'Antoni, the Knicks are no better than they were before. Mike Woodson is a defensive-minded coach, which leads many to believe the Knicks' defense will improve. Sorry, but that's not happening.
In order to succeed on defense, you need defensive-minded players. The Knicks have a few - Tyson Chandler, Iman Shumpert, Jared Jeffries and even Josh Harrellson - but all of them besides Chandler are not key players on this team. I personally believe Shumpert should start over Landry Fields because the Knicks' first unit needs a good perimeter defender; hopefully Woodson agrees.
When Anthony and Amar'e Stoudemire are on the court together, the New York defense is a complete and utter failure. Stoudemire struggles with assignments and rotations, while Anthony struggles with effort and desire. The most frustrating thing of all is that Anthony has the talent to be an above-average defender, something I can't say with confidence about Stoudemire.
If Woodson can get Anthony to buy in on the defensive end, then the Knicks should improve. But expecting that to happen is like expecting Baron Davis to do something besides hold the ball at the top of the key for 10-15 seconds before taking an awful shot. The same Baron Davis who supposedly
lobbied D'Antoni for more playing time
(scroll to the bottom) so he could stray from the offense to feed Anthony and Stoudemire. What a joke.
That article also discusses the fact that D'Antoni lost the locker room, particularly because he didn't force Anthony to buy in by benching him when he stepped outside the system. D'Antoni had also been juggling multiple new pieces in the past month, which led to inconsistent rotations and inconsistent playing time for much of the roster.
From my perspective, it's hard to blame any of the Knicks' recent struggles on D'Antoni (or even Anthony for that matter). He was put into an impossible situation with unrealistic expectations; take a talented yet selfish player who won't buy into the system and doesn't play defense, combine him with multiple other defensive liabilities and win a championship.
Mike D'Antoni is a good basketball mind and he will be a head coach in the NBA next season. The Knicks were a bad fit once they gutted their fun-filled roster to acquire Anthony but there are plenty of other NBA teams with coaches worse than D'Antoni, including the Knicks now (with all apologies to Mike Woodson). Phil Jackson, where art thou?