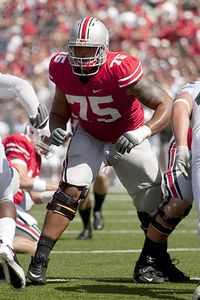 (Photo courtesy of espncdn.com)


With Wayne Hunter being one of the major disappointments for the Jets this season, the team is likely to search for his replacement in the offseason through the draft or free agency. A name that is gaining momentum at Senior Bowl practices is Ohio State tackle Mike Adams.
At 6-7, 323 pounds, Adams has the size to be an NFL right tackle and while his height creates some issues with footwork and bending at the waist much like Nate Solder last season, Solder had a productive rookie year with the Patriots filling in for Sebastian Vollmer.
Adams has been impressive so far this offseason, as seen in the following reports by Draft Insider's Tony Pauline from Senior Bowl practices Monday and Tuesday:
Mon:

Wow….Wow….Wow…. Adams was slow at the start but once he got his feet underneath him he was completely dominant. There's so much to like about his game; he's big, strong, fluid and moves incredibly well. For the most part once he got his hands on the defender it was game over.



Tues:

Overall not as good as yesterday but still a solid performance from Adams. He looked real good moving on his feet and showed the ability to quickly and easily get out to the second level and control linebackers when asked to block in motion.
Adams is playing himself into the first round and could make an instant impact along a Jets offensive line that regressed in both run and pass blocking this season. Mark Sanchez needs all the help he can get in a make-or-break season and Adams could give help give him more confidence in an offensive line that he seemed not to trust as the season wore on.
The need for a pass rusher may be first on the list for the Jets but with Courtney Upshaw being rumored to go in the top 15 or even the top 10, there isn't another 3-4 outside linebacker without some serious bust potential that early in round one. If Upshaw isn't on the board, Adams could become a serious consideration for the Jets by the time April rolls around.