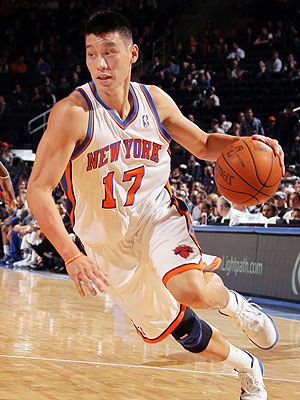 (Photo courtesy of timeinc.net)


First, let me destroy the comparisons being made between Jeremy Lin and Tim Tebow once and for all. For one thing, Jeremy Lin actually plays well for the first three quarters of the game. But the differences don't end there.
Tebow was an All-American in college. Lin was All-Ivy. Tebow's receivers struggled often when the ball was in his hands thanks to an inability to read coverages and general inaccuracy. Lin makes his teammates better when he has the ball with impressive court vision and pinpoint dimes.
Most pro-Tebow articles refused to give credit to anybody but Tebow. That won't happen here, even as Lin tied the game last night with a minute remaining with a sensational three-point play and won it at the buzzer with a straightaway three-pointer.
How quickly people forget about Iman Shumpert, who picked Jose Calderon's pocket and got an easy dunk out of it to cut the Toronto lead to 87-84 two possessions before Lin's three-point play. The same can be said for Tyson Chandler, whose offensive rebound of Shumpert's late miss to give the Knicks the final possession helped Lin make magic happen.
Without Shumpert's steal, the Knicks are down two points on the final possession and Lin likely doesn't clear out for the three like he did. Without Chandler's rebound, well, Jose Calderon had a pretty good game himself (25 points, nine assists). Maybe he hits the game-winning three over Lin instead of Lin over him.
As much as his teammates have helped in spots, it's been Lin who has taken this Knicks team from out of the playoff picture back into contention. Before last night, he did it without Carmelo Anthony and Amar'e Stoudemire. Stoudemire scored 21 points in his return, but it was a quiet 21 thanks to Lin.
Lin has set two records in his first five NBA starts: Most points (136) and most turnovers (30). I see both going down in the near future thanks to the return of Anthony, who also likes to play with the ball on offense. Anthony's presence will lessen both the scoring and ball-handling pressure on Lin.
Anthony's return should also help Lin get some rest, as he's played over 40 minutes per game in his five starts. Fatigue has been evident at times for Lin; last night he missed some free throws late and some of his turnovers against Minnesota came when he was straight gassed.
Lin's minutes won't stay in the 40 range all season, especially if Baron Davis can come back healthy to play 20 or so minutes a night. It's funny how a few weeks ago, Davis was the savior who was going to need to play 30-35 minutes a night at the point. Now, he's going to help keep the Knicks' new savior fresh.
I might have slightly lowballed Lin in my
previous article
when I said "Once Stoudemire returns Monday and Anthony about a week later
, the young point guard should settle in around 12-13 points per game and dish out five or six assists as well." Stoudemire's presence didn't affect Lin's numbers at all but Anthony's certainly will.
My amendment to that above predictions is as follows: I think Lin will score around 15 points per game with 9-10 assists. It's a big move up on the assists but considering even Raymond Felton
averaged nine assists
in 54 games in Mike D'Antoni's system last year, the quicker Lin should be able to at least match that.