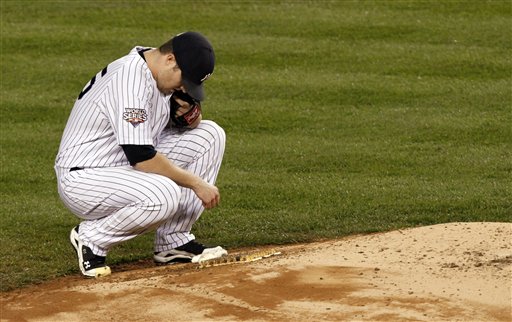 Yankees starter Phil Hughes got rocked again, this time by the Los Angeles Angels, allowing 6 earned runs on 9 hits in just 5 innings. Considering Hughes has just two quality starts in his last six outings, many Yankees fans are wondering what's wrong.
Here are the numbers from Hughes' first six starts this season:
39 innings, 22 hits, 39 strikeouts, 11 walks, 1.38 ERA
And from his last 11:
67 innings, 77 hits, 54 strikeouts, 21 walks, 5.51 ERA
A few things stand out to me. He's not going as deep into games, averaging 6.5 innings per start in his first six and 6 innings per start in his last 11. He went seven innings in four of his first six starts and has gone seven just four times in his past 11.
He's been much more hittable as the league has gotten a book on him as a starter, his strikeout rate has dropped (9.0 K/9 to 7.2) and his walk rate has risen (although not by much). After allowing just one home run in his first six starts, he has allowed 12 in his last 11.
So what do these stats tell us? For one, they tell us that Yankee Stadium is a bandbox. Four of Hughes' first six starts came on the road and he pitched great, while eight of his last 11 have come at home where he has struggled.
He has thrown 45.2 innings on the road and allowed 12 earned runs (2.36 ERA), while allowing 35 earned runs in 60.1 home innings (5.22 ERA). Hughes has yet to allow a home run on the road, compared to 13 at home.
It also tells us that perhaps Hughes' arm is tiring. His career high in professional innings is 146 in 2006, when he spent the entire season in the minors. He threw 110.1 combined innings in 2007, with 72.2 coming at the major league level and 105.1 in 2009, 86 in the majors.
Hughes is already at 106 innings this season, just 40 less than his career high. And he has thrown just 192.2 major-league innings in the previous three seasons. Maybe the Yankees putting an innings limit on Hughes is a good idea after all.
I personally hate innings limits like this, but it's a big part of baseball today. Pitchers are coddled from a young age and just aren't trained to throw a lot of innings or consistently go deep into games anymore. Then team owners wonder why their prized starters injure their arms. If you train a pitcher a certain way (by limiting their innings), they will inevitably be uncomfortable when asked to throw more innings.
On the contrast, if you train a pitcher to go deep into games and let him throw lots of innings in the minors (without overdoing it, of course), he will consequently be more prepared to throw a lot of successful major-league innings. But these days, nobody does that.
I know you have horror stories like Kerry Wood, but he had a violent delivery and a manager (Dusty Baker) with a reputation for running pitchers into the ground. There's being careful with a young pitcher, there's letting him pitch naturally, and there's overworking him. Wood was overworked.
But even Wood threw 151.2 minor-league innings in 1997 before bursting onto the scene as a rookie in 2008, throwing 166.2 innings in the big leagues the next season before missing the last month with elbow soreness. He needed surgery the following spring and has been injury-prone ever since. This is why you can't look strictly at a number of innings as a barometer for young pitchers, because they are all different.
Edinson Volquez threw 192 innings in 2008 after pitching a career-high 180.2 combined the previous season. He needed Tommy John less than 50 innings into the 2009 season, but it's difficult to put that injury on being overworked. He was being slowly eased into more innings and the way he was pitching, he could have gone deeper into many games. He was not overworked.
Pitchers get hurt. It's just a fact of baseball. And many experts try to point out injuries happen when a pitchers throws significantly more high-stress (read: major league) innings than in the previous season, since a major-league inning is obviously much more difficult than a AA or AAA inning. But if you train a pitcher to go deep into games and not worry about pitch counts, then it won't be an issue once he reaches the majors, right?
We'll never find out if this is actually the case, since teams do so much these days to baby their young arms. Maybe it's the contracts they give these pitchers or the fact that these kids throw harder than pitchers ever did in the 70s and 80s, but as an athlete I know that you can condition your body to perform at certain levels and today's young pitchers are conditioned by constraint.
Let these kids loose in the minors (without going crazy) and some of them will flourish once they hit the majors and be able to handle the extra stress of the innings. Coddle them against lesser competition, and they may struggle when asked to stretch themselves out against the best of the best. This looks like what is happening to Phil Hughes, and it's a true shame.
I still think Hughes will be an excellent starter in a year or two. But it's obvious that the way the Yankees trained him in the minors (yes, I know he had some injury issues) has set him up to be unable to finish this season as a starter. He will close in on his innings limit and be banished back to the bullpen.
I just hope that doesn't stunt his development as a starter. Looking at what happened to Joba Chamberlain when the Yankees jerked him back and forth from the bullpen to the rotation and back, it's not out of the realm of possibility.