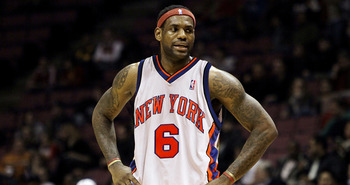 Anybody who has discussed NBA free agency with me knows that I have been skeptical about LeBron James coming to New York from the day the Knicks started clearing cap space to make a big splash this summer. I thought there were just as many reasons for him to stay in Cleveland (money, past success, hometown) or play somewhere else like Chicago (better roster), Miami (play with Dwayne Wade) or New Jersey (ties to Jay-Z) than go to New York to play in the World's Most Famous Arena.
And as a Knicks fan, I didn't want to get myself too excited over the idea of James coming to New York, only to have my hopes dashed when he decided to go elsewhere. This follows one of my most important life mantras: Except nothing and you will never be disappointed; expect the world and anything less won't match it. Call me depressing or morose, but I'm just a realist.
But once talks broke off between Amar'e Stoudemire and the Phoenix Suns and rumors started locating Stoudemire in the Big Apple, the wheels in my mind began to turn. Knowing that Chris Bosh was most likely to go somewhere where he could play alongside LeBron or Wade, wouldn't the superstar not joining forces with Bosh feel the need to join Stoudemire in New York to compete?
For argument's sake, let's say Wade and Bosh end up in Chicago. James knows that he cannot compete with the Bulls if he stays in Cleveland alongside the likes of Mo Williams and Antawn Jamison. Miami wouldn't even have a roster if Wade left, the Clippers are the Clippers and the Nets, while rostering solid young talent, don't have a player like Amar'e Stoudemire (sorry Brook Lopez, maybe in a year or two). So that leaves New York as potentially the most viable option for James (or Wade if the roles were reversed).
Maybe I am starting to warm up to the vision of seeing James in a Knicks uniform, and the potential addition of Carmelo Anthony either via trade or through free agency next year is another way to intrigue LeBron to come to the concrete jungle.
It's still hard for me to put all my eggs in the LeBron-Amar'e basket just yet (see second paragraph above), but things are starting to look up for Knicks, especially since James' representatives had a second meeting with New York on Saturday. The odds are still good that he stays in Cleveland or joins Bosh with the Bulls, but the Knicks seem to be serious top-three contenders for LeBron's services.
Considering how I felt about this scenario playing out months ago and as recently as late last week, that's saying something coming from me.