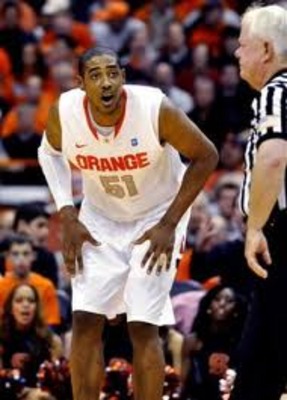 (Photo Credit: http://cdn.bleacherreport.net/images_root/slides/photos/000/516/622/fab_display_image.jpg?1290359538)


With the NBA still at the bargaining table and making little headway towards a new collective bargaining agreement, Syracuse's preseason game last night finally gave many die-hard basketball fans what they were looking for: on-court action.
Regardless of the competition level of opponent Cal St. Los Angeles, who flew across the country strictly for the experience and financial gain of playing a top-five team, it was nice to see the game of basketball being played rather than hearing about millionaires fighting over two percent differences in revenue sharing.
Syracuse won the game 79-49, but the halftime score was surprisingly close at 29-22. The Orange looked out of sorts offensively at times, but that's to be expected in the team's first action of the season. They stepped the scoring up in the second half with a 50-point outburst to open up the game and look more like a team ranked in the top five.
Anyway, here are a few things that stood out from the opener for Jim Boeheim's squad:
- Fab Melo looks rejuvenated and ready
At first glance, sophomore center Fab Melo looked slimmer walking onto the court before the game. At second glance, he looked quicker and more explosive while scoring six of Syracuse's first seven points. In 17 minutes of action, Melo led the team with 12 points and added eight rebounds, two blocks and a steal.
It would be asinine to anoint Melo as the savior after just one impressive performance, especially against an inferior team whose tallest player stood just 6-9. Somebody has to replace Rick Jackson though, and why not the seven-footer?
Melo was highly touted coming into last season but may have been the NCAA's biggest bust. Baye Moussa Keita returns as well and the Orange also brought in 6-9 forward Rakeem Christmas, but Melo is the player with the height and physical skills best suited to fill Jackson's shoes defensively and on the glass. Now, he just needs to keep improving and be consistent every night.
- Syracuse may be the deepest team in the nation
The Orange started the four players everybody would have expected in Melo, Brandon Triche, Scoop Jardine and Kris Joseph, but the fifth was even shocked himself to get the nod. Christmas started alongside Joseph at forward, scoring six points, grabbing five rebounds and blocking three shots in his first 19 minutes of collegiate action.
Regardless of whether Christmas continues to start or Boeheim uses Keita or C.J. Fair when the Orange open the regular season, the rest of the team's bench is impressive. Dion Waiters would start on most NCAA teams while Michael Carter-Williams was one of the top recruits in the nation. For the record, I've already mentioned nine players.
Syracuse can go deeper than nine, too. Freshman Trevor Cooney wasted no time showing off his shooting prowess, making a three-pointer just 20 seconds after checking into the game. James Southerland returns as well and if his shot selection is improved from last season and he can cut down on turnovers, he deserves playing time as well.
Boeheim will have a lot of decisions to make with his lineup in the season's first few weeks. His team can legitimately go 11 deep at times, but no coach wants to play that many guys on a nightly basis.
Even still, I wouldn't be surprised to see Boeheim go with an 11-man rotation during the non-conference schedule to see which units work well together, although it will be interesting to see who will be the odd man (or men) out when Big East play rolls around. It may be Cooney even if he doesn't redshirt this season, but he might already be the best outside shooter on a team that lacks distance marksmen.
- If there's anything this team lacks, it's a go-to guy on offense

This was the major issue with the Orange last season and was a big reason for their early departure from the NCAA Tournament. Most expected Kris Joseph to take over last season in Wesley Johnson's stead, but he was passive at times and didn't take the reigns. Joseph didn't look the part last night, either.
In his defense, Joseph has been bothered by an injury to his knee, and not the same knee he underwent surgery on in the offseason. He wasn't himself last night and it showed, but it's still a question whether he possesses the killer instinct to put the Orange on his back when they need him to.
Triche is the other player of whom more is expected, especially since he was the Orange's most-improved player from the 2009 season to last year. His jump shot still looks somewhat inconsistent, but if him and Joseph can take the ball to the rim with authority that may be a non-issue.
Fair showed flashes of offensive brilliance last season and comes into 2011 with a supposedly improved jump shot thanks to an offseason of hard work. If Fair really has extended his game beyond 15-20 feet, Syracuse may be able to rely on the trio of Joseph, Triche and Fair to carry the scoring load without a true top dog.
Then there's Jardine, possibly the only member of the Orange who has never seen a shot he didn't like. He had nine points and seven assists last night and played the role of playmaker and distributor, a role that most fans would love to see him embrace rather than chucking up bad threes at inopportune times.