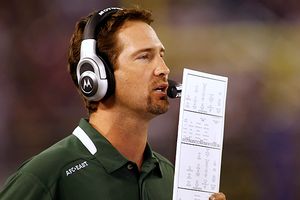 (http://a.espncdn.com/photo/2010/0121/nfl_u_schottenheimer11_300.jpg)


After a 2-0 start at home in 2011, the Jets have dropped three straight road games to Oakland, Baltimore and New England, allowing 30 points to each team after letting up just 27 in the first two games combined.
That stat would make you think it's their defense that's letting them down and, to an extent, that's true. But it's difficult to play defense when your offense is consistently going three-and-out and you spend twice as much time on the field as you do on the sideline.
The recent trade of Derrick Mason for a conditional seventh-round draft pick may have a minimal impact on the field, much like Mason did in his short stint with the team, but the reasons behind the trade go much deeper and may hit on the ultimate problem for the Jets so far in 2011.
Mason and fellow receivers Santonio Holmes and Plaxico Burress reportedly approached Rex Ryan before the New England game to complain about Brian Schottenheimer's offense, as New York's top three receivers had just 35 receptions for 432 yards and three touchdowns through four weeks. By comparison, tight end Dustin Keller and running backs LaDainian Tomlinson and Shonn Greene had combined for 41 catches, 521 yards and three touchdowns.
Many are quick to defend Schottenheimer's conservative offensive approach due to the development, or lack thereof, of third-year quarterback Mark Sanchez. Without a competent quarterback, you can't stretch the field in the NFL and hit your receivers with consistent success.
You also can't stretch the field if you don't try, and the Jets don't. They have attempted just 13 passes of over 20 yards this season, an average of fewer than three per game, despite Sanchez averaging almost 35 pass attempts per game.
Defenses have been able to play with eight in the box against the Jets all season, suffocating the short passing lanes and leaving no holes in the running games. As a result, Sanchez has been blitzed religiously and has nine turnovers in just five games, while Greene and Tomlinson have averaged just 3.3 yards per carry and are consistently being hit in the backfield before they reach the holes that don't exist.
That brings me to the Jets' next problem: Their offensive line. Many questioned the Jets' release of former Pro Bowler Alan Faneca last preseason, but the team still succeeded on the ground and all was quickly forgotten. But losing Damien Woody to retirement before this season cost the team another veteran presence in the trenches and one they have struggled to replace.
Matthew Slauson and Wayne Hunter probably aren't legitimate NFL starters and Brandon Moore is aging. While D'Brickashaw Ferguson and Nick Mangold are studs, the two games that Mangold missed proved disastrous for the Jets with undrafted rookie center Colin Baxter snapping to Sanchez.
Mangold returned for Week 5 and the difference was noticeable, but the Jets also played against one of the league's worst defense, if not its worst.
Speaking of bad defense, the Jets have had their share of struggles on that side of the ball too. They have been solid against the pass but their run defense leaves much to be desired. Linebackers Bart Scott and Calvin Pace are a year older, while defensive end Muhammad Wilkerson is a talented yet inexperienced rookie.
Losing Bryan Thomas for the season is another big blow to the New York run defense. Backup Jamaal Westerman is an excellent pass rusher, as seen by his two sacks against Tom Brady on Sunday, but Thomas is a former defensive end whose main job in the Jets' linebacking corps was stopping the run. Thomas' torn Achilles will keep him out for the rest of the 2011 season.
It seems like I've hit on every aspect of the Jets team as reasons for their early struggles this season outside of their special teams unit, which is arguably the only reason they aren't 1-4 after multiple big plays in Week 1 against Dallas.
As much as it's difficult for me to blame coaches when players don't execute, the players can't be expected to succeed with a gameplan that handcuffs their talents. If I had to choose the biggest culprit for the Jets' 2-3 start, it would be Schottenheimer. And as the percentages below tell you, it's not a particularly competitive blame game.
Brian Schottenheimer: 55%
Offensive line issues: 25%
Rush defense: 15%
Mark Sanchez: 5%
What it ultimately comes down to is this: If Schottenheimer would open up the offense and take even occasional shots downfield, it would make things much easier for Sanchez, Greene, Tomlinson and the offensive line.
If the offensive line could hold up longer in pass protection, Sanchez would have time to get the ball downfield rather than running for his life, which it seems like he's doing far too often this season.
If Sanchez was able to stay comfortable in the pocket as a result, he could find time to convert third-and-long situations. It seems like when the Jets face third-and-nine or longer, they complete a pass that falls a yard or two shy of the marker. This would prevent three-and-outs and give their defense some rest, which would help in stopping the run.
And if Sanchez would just throw the ball away sometimes or was better at feeling blind-side pressure, he could limit crucial turnovers that have either led to points for opposing defenses or quick turnarounds for the Jets defense.
As you can see, there's a lot of blame to be tossed around this organization after a 2-3 start and it's all interchangeable. When one part of the team struggles, the rest of the team feels it.
But trailing in the division by just two games, all hope is not lost. There's a lot of work to be done, however, and the Jets will need to fix a few things if they plan on contending.
Step one: Open up the offensive playbook. Sanchez has talent, but you can't expect him to show it without letting him loose. He's already turning the ball over, so what do you have to lose? You never know, the rest might just fall into place.