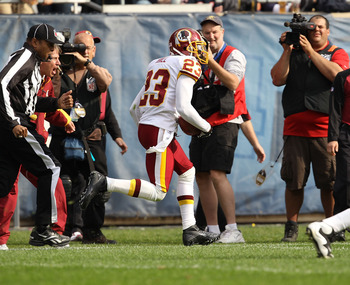 (photo courtesy of bleacherreport.com)


It seems blasphemous to consider that people who get paid millions of dollars to play a kid's game (
and $500K for showing up to work out
) could hate their jobs. Maybe the word "hate" is too strong, but most Americans tend to dislike their jobs. These guys just enjoy getting paid lots of money for doing nothing. I mean, who wouldn't?
That's where the NFL players sit right now during the work stoppage that has lasted almost two months. DeAngelo Hall has already made $500,000 for working out when the lockout was temporarily lifted, a sum that amounts to more than most Americans make in a year. Or five.
While his Saints teammates are conducting private workouts led by quarterback Drew Brees, running back and likely ex-Saint Reggie Bush is busy tweeting how relaxed he is and how he's happy not to be "slaving" in 100 degree heat for nothing. That was probably the wrong choice of words by the former Heisman winner regardless of whether he was kidding or not, but surprisingly nobody has jumped on him for that.
ESPN First Take analyst Skip Bayless has publicly called Bush out for his tweets, however, saying his performance on the field (or lack thereof) doesn't give him the right to speak his mind (
Bush's responses here, via Twitter of course
). Sorry Skip, but the United States is a free country, although I understand why he would be unhappy with how Bush is publicly handling the situation.
Not everybody is enjoying the lockout layoff as much as Hall and Bush. Jets quarterback Mark Sanchez is leading his "Jets West" camp again while Falcons quarterback Matt Ryan has his team working out as well. Is it a coincidence that both of these quarterbacks, along with Brees, led their teams to the playoffs last season?
It seems players like Brees, Ryan, and Sanchez are enjoying the lockout, just in a different manner. Some players don't rest on their million-dollar laurels once they reach the NFL. Some enjoy playing the game, improving their skills and genuinely covet the time they get to spend around their teammates.
Those are the qualities you find in Super Bowl champions. On the flip side, Bush already has a ring, thanks mostly to his teammates, and Hall will probably never see one. Now we see why.
It's one thing to enjoy the opportunity for respite the lockout has provided. After all, playing in the NFL these days is a year-long commitment despite games lasting just six months. So to say players like Hall and Bush are wrong for what they're saying is, well, wrong. The only people they're hurting are themselves, and that's the way it should be.
If you're not working hard in the offseason to stay in shape and improve as a player, you will be passed by the next guy who is and soon enough, you'll be out of a job. And it will be your own fault. Hall and Bush are likely too talented to see some hard-working scrub take their job and frankly, they know it.
So why not take advantage of an opportunity for time off that they won't see again until they're retired? I have no problem with what Hall and Bush are doing and saying, but it helps prove the opposite point about players like Brees, Sanchez and Ryan.
As for the perception that they may hate or even "strongly dislike" their jobs as professional football players, that seems like a serious stretch. At the very least, they love the attention their celebrity status draws to their Twitter accounts.