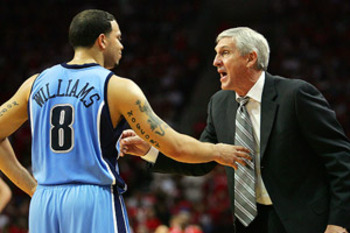 (photo courtesy of swarmandsting.com)
The longest-tenured head coach in sports is no more. After 23 years with the Utah Jazz, Jerry Sloan and one of his assistants, Phil Johnson, have resigned. There have been rumors that All-Star point guard Deron Williams forced Sloan out and I hope they aren't true.
Williams is one of my favorite NBA players; after all, I have an affinity towards do-it-all point guards. It's nothing new for coaches and stars to have disagreements, that's part of the business and any coach-star player relationship. But if Sloan called a play and Williams changed it, that can't be happening.
That led to a heated halftime exchange and according to a source was the last straw for Sloan, who denied any such rumors. Sloan's relationship with Williams had also been rumored to be strained over the past few weeks and at age 68, the coach just had enough. Allegedly.
The energy that Sloan had early in his career just wasn't there, which is to be expected after 23 seasons, and that's why he said he's stepped down. I believe it, and I'd also like to believe that's the Sloan that Williams wanted to play for; not a tired old man who lacked the passion that was evident in the days of John Stockton and Karl Malone.
Regardless of the specifics, this situation is indicative of a growing trend in the NBA; a trend that may turn into a problem somewhat soon.
In today's association, players now seem to have more power than coaches and executives. Case in point: Carmelo Anthony forcing the Nuggets' hand in Denver and the Williams-Sloan situation in Utah.
In Utah, Williams won; whether he wanted the new Sloan or no Sloan, those were his only choices. Replacement Ty Corbin won't be able to control Williams to the level Sloan could or provide this team better leadership than Sloan. That now falls on Williams, who I think can embrace this.
In Denver, if Anthony is dealt by the trade deadline in less than two weeks he will also have won - essentially choosing where he wants to play rather than playing where he was drafted (a la Eli Manning forcing the Chargers to trade him).
I hate Manning for that move but I likely won't hate Anthony for two reasons; he played where he was drafted for years, unlike Manning, and he might go to the Knicks. Call me a hypocrite, I dare you.
This isn't just a problem in the NBA either; just look at Albert Pujols and the St. Louis Cardinals. Pujols wants a new contract and if he doesn't get it before spring training, he will test the free agent waters. That doesn't mean he won't end up re-signing in St. Louis, but nobody wants their star hitting free agency; especially in baseball where a handful of teams have more money than everybody else.
We all understand that sports are a business, but it seems the players are beginning to run that business. And this is an issue that will only get worse as time goes on because no team, in any league, can win without its best players. Stars are finally starting to realize that and abuse the leverage they do have.