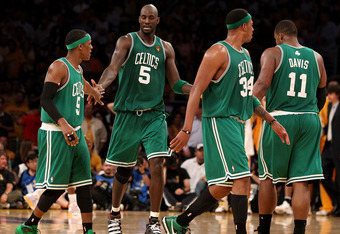 By request and my own general interest in basketball, here is the first edition of Tripodi's Top Teams for the NBA.
The Elite (top title contenders)
1. Boston Celtics (28-9):
Boston has beaten Miami both times they've played this season, but that was before the light bulb seemed to click for the Heat. But those head-to-head matchups (they play twice more if anybody was curious) and the league's top scoring defense put Boston at the top. In a league where you need two superstars to win a title, the Celtics have four. No other team can make that claim.
2. Miami Heat (30-9):
The Heat are hot right now (sorry for the bad pun), having lost just once since December 1. LeBron James, Dwayne Wade and Chris Bosh have found the offensive chemistry they needed and Miami allows just 92.2 points per game on defense, second only to Boston. The Celtics-Heat rematch in Boston on February 14 will be much anticipated.

3. San Antonio Spurs (32-6):
Say all you want about their recent road losses in New York and Boston, as they still have three fewer losses than any other team in the NBA. But San Antonio's defense this season is not up to par with recent history and while they are a better regular season team right now than they have been, I'm not sure this style of Spurs basketball is playoff-tested.
4. Los Angeles Lakers (28-11):
Bad recent losses to Milwaukee and Memphis at home raise red flags, but once this team gets used to playing with Andrew Bynum back in the lineup again they have way too much talent to keep out of the title picture, especially if Kobe Bryant is rested for the playoffs.
5. Orlando Magic (25-12):
After losing to Atlanta and Dallas in their first two games after re-acquiring Hedo Turkoglu along with Jason Richardson and Earl Clark, the Magic have won nine straight including wins over San Antonio, Boston, New York and Dallas. If Turkoglu can continue his strong play this team has legitimate title hopes.
6. Dallas Mavericks (26-10):
They've struggled with Dirk Nowitzki on the shelf, but take away any team's best player outside of Boston and maybe Miami and they will struggle too. With a healthy Nowitzki this team is on the title radar, but Caron Butler's injury will hurt this team more than many think.
On the Cusp (not quite title-worthy, but capable of winning a series)
7. Chicago Bulls (25-12):
The combination of Derrick Rose and Carlos Boozer is an excellent 1-2 punch and along with Luol Deng and Joakim Noah when he returns from injury, this team is very legit. I'm just not sure Rose is ready to lead them to an NBA title in 2011.
8. Oklahoma City Thunder (25-13):
Kevin Durant is already one of the league's top players and Russell Westbrook is stating his case with his improvement this season. I love this team's young nucleus but they're still a year away; in 2012 they will be part of the elite group.
9. Utah Jazz (25-13):
Deron Williams is finally having the season that many (including myself) were expecting 2-3 years ago. The Jazz are strong inside with Al Jefferson and Paul Millsap, who have made the loss of Carlos Boozer a wash. I'm just not sure they can compete with the West's top three teams.
10. New York Knicks (22-15):
The Knicks could very possibly be out in the first round depending on who they match up with, but New York is finally buzzing about basketball with the outstanding play of Amar'e Stoudemire, Raymond Felton and Wilson Chandler. Depending what they may have to give up in a trade, this team could take a step into the elite class if they get Carmelo Anthony. And if they don't 2012 may be their season, like the Thunder above.
11. Atlanta Hawks (25-14):
This team will regret the contract they gave Joe Johnson, who can't be the lead guy on a title-contending team. But they have enough talent around him with guys like Josh Smith, Al Horford and Mike Bibby to make the second round. And if Marvin Williams ever puts it all together...
First-round exits
12. New Orleans Hornets (22-16):
Chris Paul is great and David West is a very solid player, but this team lacks the star power and the depth to make a legitimate run in the West. They're easily a playoff team, but a first-round exit seems likely.
13. Denver Nuggets (21-16):
Carmelo Anthony's status is a major question mark for this team and the likelihood of a trade keeps them out of the top 10. If Melo stays in Denver for the season, this team will see a bump forward.
Other playoff contenders
14. Portland Trail Blazers (20-19):
LaMarcus Aldridge is having a career season and while Wesley Matthews has performed admirably in his stead, Brandon Roy's multiple knee injuries will keep this team from hitting its potential.
15. Memphis Grizzlies (17-21):
Based on talent alone, Memphis has one of the league's better rosters. And they did just beat the Lakers on the road, so they can play with anybody.
16. Houston Rockets (17-21):
Similar to Memphis, the Rockets just went into Boston and beat the Celtics by six. But that was after losing five in a row to contending teams. A healthy Yao Ming would have really helped this team this season.
17. Milwaukee Bucks (14-21):
They are tied with Charlotte for the eighth seed in the East but anytime you can combine a young point guard like Brandon Jennings with a big man like Andrew Bogut, you're in business. This team has enough role players to get the job done but is still a year or two away from being a serious contender unless Jennings develops quickly.
18. Charlotte Bobcats (14-21):
The play of D.J. Augustin has softened the blow of losing Raymond Felton somewhat and while this team has some nice pieces, they don't have that go-to superstar that championship contenders need.
19. Indiana Pacers (15-20):
It's obvious you're not that good when you don't have a set lineup or rotation, and this team will be easy picking for a top seed if they get in. After a 9-7 start, they have gone 6-13 and will be lucky to hold onto a playoff spot. Darren Collison hasn't taken the leap forward many expected and Danny Granger can't do it all.
20. Los Angeles Clippers (12-24):
Surprised? Don't be. The Clippers are 7-3 since a 5-21 start and have a great young cast led by Blake Griffin and Eric Gordon. Baron Davis is finally realizing his diminishing skill set and is enjoying his nightly spot on the highlight reel feeding alley-oops to Griffin. They are young but they're only 6.5 games behind an eighth-seeded Portland team that's trending in the wrong direction. Crazier things have happened.