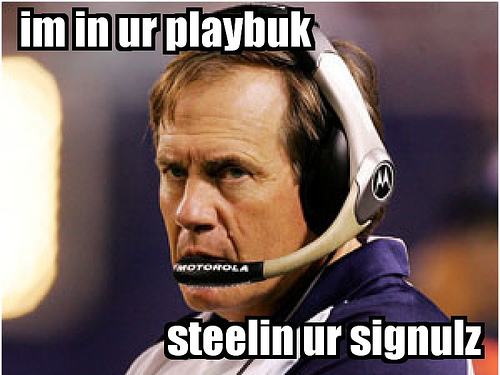 1(2). New England Patriots (11-2)
- Two straight blowouts of 9-4 football teams, including one on the road, get you the top spot in the rankings. Tom Brady shredded the Jets and Bears for 81 points in the last two weeks and gets another good defense this week in Green Bay. But if Aaron Rodgers can't play, the game is already over.
2(1). Atlanta Falcons (11-2)
- It's hard to punish a team that comes out and punishes a bad opponent like the Falcons did to Carolina, but the way the Pats are playing right now it's very difficult to keep them off the top of the heap. Atlanta is still the NFC's best and while the Saints are still a threat to take the top seed from the Falcons, they have to travel to Baltimore and then to Atlanta in the next two weeks. I doubt Falcons-Saints on Monday night will be as bad to watch as Patriots-Jets was.
3(4). New Orleans Saints (10-3)
- Make that six straight for the streaking Saints, who proved that whoever wins the NFC West has no chance in the playoffs. With road matchups against Baltimore and Atlanta on tap, Drew Brees will need to make sure he's at the top of his game along with their defense, which is making big plays again. These rankings could look much different in two weeks, just like they were two weeks ago.
4(3). Pittsburgh Steelers
(10-3)
- Good thing the Steelers have a great defense, because they can't do anything on offense right now. And against the Bengals? Whatever the over-under on their game with the Jets this weekend is I'm taking the under; these teams will be lucky to score an offensive touchdown against each other.
5(5). Baltimore Ravens (9-4)
- This team has trouble closing out games and that will come back to haunt them in the playoffs. The combination of not having a workhorse running back (I love Ray Rice, but he's no closer) and struggling in pass defense means that this team will likely continue to struggle salting away leads in the second half. Drew Brees knows all about late-game comebacks, so this game looks dangerous for the Ravens even at home.
6(9). Philadelphia Eagles (9-4)
- The Eagles held on against Dallas, who has been playing good football under Jason Garrett. Unlike the Ravens, this team can close games because LeSean McCoy is extremely underrated as a runner. Everybody knows what he can do catching passes out of the backfield, but if he can run like he did towards the end of last week's game the Eagles will be a tough out.
7(10). New York Giants (9-4)
-
Hakeem Nicks came back healthy as the Giants beat up on Minnesota but with Steve Smith now out for the season with a knee injury, Eli Manning will be without his most trusted third-down target. I hate to say it but without Smith I don't think this team can win a Super Bowl. A big game from Manning against Philadelphia this week would start to change my mind, if only a little.
8(6). New York Jets (9-4)
- Miami has a good defense but they aren't
THAT
good. The Jets are just that bad on offense. It doesn't get any easier this week without Damien Woody (out for the year) and facing a Steelers defense that turns turnovers into points instantly. The Jets defense needs to come to play again against a Steelers offense that is struggling as bad as theirs right now.
9(7). Green Bay Packers (8-5)
- The loss hurts, yes, but Aaron Rodgers' concussion is of much more concern to this team, especially heading into a huge game with New England. If Rodgers can play I expect a shootout but if he can't, the Packers defense is going to have to do what the Jets and Bears couldn't: slow down Tom Brady. Tough task.
10(8). Chicago Bears (9-4)
- Last week it was the Jets, this week it's the Bears. Teams that think they have a shot at contending with the best getting rolled by the best. The Jets lost on the road, but the Bears got destroyed at home in weather you would expect them to be used to. The Jets followed up their blowout loss by losing to an average team; the Bears would be well-served not to let that happen in Minnesota.
11(12). Jacksonville Jaguars (8-5)
- Jacksonville got gashed by Darren McFadden but won a high-scoring game. The Colts don't have the running game to beat the Jags defense but Peyton Manning should have no issue throwing against them. A win this week would clinch the division for the Jaguars and to do that, they're going to have to score points like they did against Oakland. Luckily for them they have Maurice Jones-Drew and the Colts can't stop anybody on the ground.
12(13). Tampa Bay Buccaneers (8-5)

-
Tampa Bay beat another bad team, what a surprise. They are tied with Green Bay for 7th place in the NFC but the Packers are limping to the finish line. If the Bucs beat Detroit they will be tied with either the Eagles or Giants for the last Wild Card spot and they finish with Seattle and New Orleans. I'm not sure 10-6 gets them into the playoffs but I expect them to be sitting at 10-5 going to New Orleans in Week 17 with a chance at 11 wins and an almost-guaranteed spot. That would be a great time for their first win this season against a winning team.
13(15). San Diego Chargers (7-6)

-
The Chargers were a little lucky the Chiefs had to start Brodie Croyle, who is now 0-10 in his career as a starter. The health of Antonio Gates is worrisome and while Philip Rivers has plenty of other weapons, a healthy Gates would make a huge difference. They might have to get to the playoffs without the league's best tight end and if they do, he will likely tough it out for the games that matter. They still need help to overtake the Chiefs, though.


14(11). Kansas City Chiefs (8-5)
- That was an ugly loss without their starting quarterback, but Matt Cassel should be back under center this week after his mid-week appendectomy. The Chiefs just need to beat sub-.500 St. Louis, Tennessee and Oakland to make the playoffs but they can't afford to slip up with the Chargers hot on their tail.
15(16). Indianapolis Colts (7-6)
- Peyton Manning got back on track this week against Tennessee, picking on rookie Alterraun Verner all day. He will need to pick on the Jags secondary this week if the Colts have any chance at the playoffs, as a loss means they need to grab a Wild Card berth at 9-7 and nobody is making the playoffs in the AFC this year with less than 10 wins.
16(17).

Miami Dolphins (7-6)
- I'm not sure if that win says more about Miami or the Jets. Miami is awful on offense but took advantage of turnovers and field position to put 10 points on the board. We learned the Dolphins aren't very good but there was no real doubting that; we also learned the Jets should probably be a 7-6 football team right now too. If Miami wins their next two against the Bills and Lions, they may be visiting New England in Week 17 with a Wild Card berth on the line if the Jets keep slipping,
17(14). Oakland Raiders (6-7)
- This team is extremely inconsistent; one week the defense shuts down a good Chargers offense and the next week, they allow 38 points to the Jaguars. Any realistic shot at the division or the playoffs is now gone and this team will just be playing out the string. A strong finish should lend hope for next year considering their division.

18(18). St Louis Rams (6-7)
-
Someone has to win this division and be a sacrificial lamb in the first round of the playoffs, might as well be the team led by a rookie quarterback. Bradford showed his youth against the Saints opportunistic defense this week and their Week 17 showdown with the Seahawks could decide the division. Don't rule out the 5-8 49ers either.
19(19). Seattle Seahawks (6-7)
-
Seattle got torn to shreds by Alex Smith this week. Does that mean Smith is finally ready to realize his potential as an NFL starter or does it mean Seattle is terrible? I lean towards the second part of that statement, but sadly they may represent the NFL in the playoffs this season. It's hard to predict which awful team will win this division.
20(20). Houston Texans (5-8)
- Houston mounted one of the better prime-time comebacks in recent history only to falter at the end when Matt Schaub threw a ball into the hands of Josh Wilson, who took it to the house to end overtime. This was a second straight game effort by the Texans against a good football team, but this team still cannot win when it matters in crunchtime. And a lot of that is on Schaub. Stats look great, but wins look better.