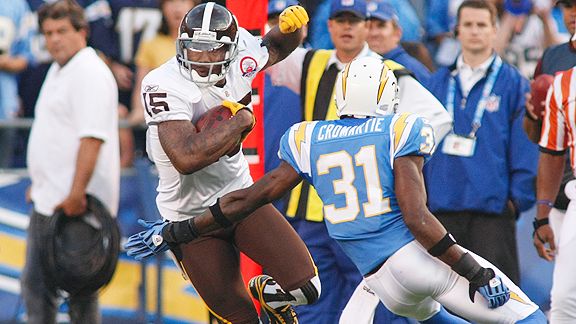 After two weeks and a 1-1 start, the Jets are a team that is especially difficult to get a read on. They started the season with a 10-9 loss to the Ravens that wasn't as close as the score indicated and many experts had already written them off, predicting a loss to New England that would've sent the Super Bowl hopefuls to an 0-2 start.
But the Jets did what good teams are supposed to do: win with their backs against the wall. And they didn't just win, they dominated the second half, outscoring the Pats 18-0 without star corner Darrelle Revis, who left with a hamstring injury after getting beat by Randy Moss for a second-quarter touchdown.
Which brings me to a point on Revis. He whined, he moaned and he was rewarded with a "new" contract. It wasn't the long-term deal he'd hoped for but it was front-loaded with lots of guaranteed money, leading him to threaten another holdout in two years once much of that money is paid.
Revis' injury will keep him sidelined for the next game or two, although he remains hopeful he can play in Miami this Sunday. The Jets were fine without him in the second half against New England, but it's uncertain if Antonio Cromartie can handful the newly acquired Brandon Marshall.
Marshall had just 8 catches for 75 yards and no touchdowns against the Chargers last season, but was not covered exclusively by Cromartie. In their first matchup of the 2008 season, Marshall had 18 catches for 166 yards and a touchdown. But Cromartie covered Marshall on just five of those plays, resulting in 4 catches for 43 yards and a touchdown. This is the matchup to watch for this Sunday's game between two big, physical players.
But back to Revis. If he hadn't held out this preseason, I believe the Jets would be 2-0 right now. Revis wasn't quite at game speed in Week 1 and therefore was not assigned to man up on Anquan Boldin on every play, leaving a lot of the work to Kyle Wilson. Boldin ended up with over 100 yards receiving and the Ravens were able to move the ball well enough against the Jets defense to put up 10 points.
If a healthy Revis at full speed were to have shadowed Boldin all day, those numbers may have been significantly worse. And Revis also would not have gotten beat by Moss for a first-half touchdown last week. In my eyes, Revis' holdout has already cost the Jets a victory this season and if they happen to miss the playoffs by one game or less, I won't hesitate to throw some of that blame in Revis' direction.
If he does miss the next two games and the Jets lose either (particularly this week's showdown against one of the league's top receivers) you can potentially blame Revis and his holdout for a second early-season loss. And that would make missing the playoffs in a close race an unforgivable sin on Revis' part. Shame on you, Darrelle. Shame on you.
But back to the Jets as a whole. Braylon Edwards gave the team another distraction with his DWI this week and while he won't start, he should see the field on Sunday. Whether his head is in the game (a question even when he's not in legal trouble) is yet to be seen, but the Jets need his height in the red zone to give Mark Sanchez an opportunity to put points up, since the Jets receivers are still struggling to get separation from opposing defensive backs.
Sanchez was awesome against New England, setting career highs in completions (21) and touchdown passes (3) after a brutal opener against Baltimore. I said after Week 1 that it wasn't really Sanchez's fault, as his receivers struggled, his interior line play was subpar and the playcalling stifled his opportunities to make big plays.
The only thing that changed in Week 2 was the playcalling; offensive coordinator Brian Schottenheimer decided to let Sanchez loose and throw downfield and the results were evident. The Jets may be a ground-and-pound football team but Sanchez is not a dink-and-dunk quarterback. But he has used his checkdowns effectively so far this season and hasn't turned the ball over, proving he deserves another opportunity to open up the playbook and show off the physical skills that made him a top-five pick last season.
LaDainian Tomlinson looks like the LT of old, not the LT of 2009, and Shonn Greene has regressed from his playoff dominance. LT has built on a great preseason and should be the lead back in the near future, allowing Greene to keep his legs fresh and take advantage of tired defenses later in the season, which is why he had so much success in the playoffs last season when Thomas Jones wore down.
Miami will struggle to run against the Jets' stout run defense even without Kris Jenkins, as Sione Pouha is starting to come into his own as the team's nose tackle. The pass defense leaves something to be desired through two weeks and without Revis, that may continue to be a short-term issue.
I predict a low-scoring game this weekend between two teams with excellent defenses. Yes, I'm a believe in the Dolphins success so far; I thought it would be a three-team race in the AFC East before the season started and frankly, I still think New England is the third best team in the division. This will be the real test for the Jets and I think they will live up to expectations for the second straight week.
A touchdown from Marshall won't be enough for Miami to pull this game out as Sanchez will continue to take care of the football and make plays when necessary. Jets 13, Dolphins 10.